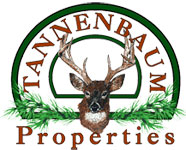 The HoneyMooner
1659 Tannenbaum Road
Tannenbaum Subdivision
Rooms: 2 Bedrooms, 2 Baths (1 Q, 3 Fulls, sleeper sofa)
Occupancy: 7-9
Price: $400 for 2 nights, $500 for 3 nights, $1,000/week
Water Proximity: Interior
Details:
Do not let the name fool you, the Honeymooner is an authentic two-story log cabin retreat great for any occasion. It features a comfortable great room with a stone fireplace extending to the full height of the cathedral ceiling. This chalet has 2 bedrooms: (1 downstairs with a queen bed, and one upstairs with 2 full sized beds, PLUS a loft above that with one full sized bed!) It also has a sleeper sofa, and 2 full baths, one upstairs and one downstairs. There is a circle driveway with a spot off to each side of the house as well, so there is plenty of parking for your boats, ATVs, etc. This cabin does have a propane grill, a great front deck with a dining table, and a firepit in the backyard. Unfortunately, there is no longer satellite TV service, but we are working on connecting an internet service, and there is a DVD player with many DVDs in the living room for you to use. Come check it out today!
16 Photos: (click any thumbnail to view the larger image)
Additional info: