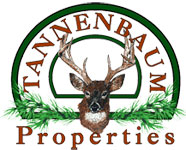 ---
Planning for the Tannenbaum subdivision began in 1965. The idea of an exclusive subdivision became reality in 1967 with the initial purchase of the land. At that time the county road was actually a dirt road with extremely deep ruts that is now known as Silver Ridge Road.
When Tannenbaum subdivision road neared Drip Creek, it was cut to follow the Corps of Engineers "white line." Each tree was hand tagged and a minimum were cut to preserve the rustic setting. It was calculated that there are 98 turns in the road from the present office to lot # 1.
The first construction was on Point 3 and was a stairway from the lake to the top of the bluff where the restaurant is located. This was the site of an old sawmill that was used to process trees that had been removed from the river valley before the lake flooded it. The second construction was the three-story chalet on lot #1 known as the "sales lodge".

Tannenbaum has attracted people from all over the United States, Canada, and British Columbia and has managed to retain it's rustic appeal even with the addition of amenities like the community water system and the golf course.

Tannenbaum has undergone many changes in it's 34-year life-span, however, it's beauty, caliber of residents, and character has remained the same. The owners of Tannenbaum Properties, Dwyer Construction, and Tannenbaum Rental Agency have established long term relationships with many of their clients who have often become friends. We invite you to come and be part of our beautiful resort.


It's not everyday that one decides to purchase a new home. Whether it be through the custom building process, our in-house design services, or helping you to search all of our Greers Ferry Lake area, we make purchasing your new home or property a smooth and successful transition. Our knowledgeable staff and accommodating office will help in insuring that you get the home of your dreams.
Additional info: